My Account
My Account is the portal designed for better management of your personal MRDM account. My Account facilitates the following functionalities:
Manage personal details registered for your account, like name, function, phone number etc.
Validation reports, Own Exports and Development Sets are made available for download in My Account through the "Downloads" page;
Insight into the history of the reports you have received;
Navigate through all the accessible MRDM applications, like DataEntry, DataConnect and Codman
How can My Account help you?
For downloading your reports you will use our new platform, My Account. On this page we explain how My Account works.
Login
You can log into My Account with your MRDM account. If you are having trouble logging in, click here for more account information.
Applications page
After logging in you will see the screen below. Here you will find all the applications that have been made accessible for your account. If you don't have access to any of our applications, then the Applications page will be empty.

By selecting and clicking on an application icon, you will be redirected to a new tab, from where you can continue your work in the application you selected.

History of all reports delivered by MRDM for you
My Account offers you an overview of all reports that have been shared by MRDM. By clicking on the "Downloads" page you will have access to a list comprising all reports and that are still available for download. Reports that can be found in "Downloads" are: validation reports, own exports and development sets.

Downloading reports
Through the "Downloads" page, by clicking on any of the rows in the files table, you will have the possibility to re-download any of the available reports.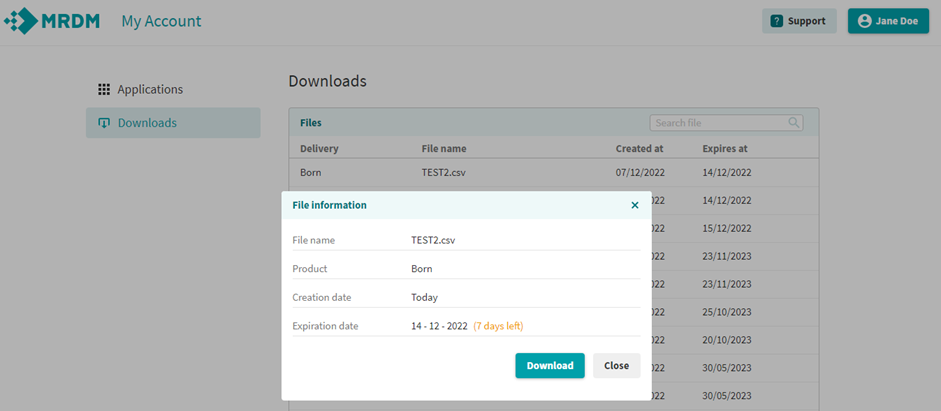 Edit personal details
You can find your the "User Profile" menu on the top right corner of your screen. It states the name under which you registered your MRDM account. If you click on your name, a drop-down menu appears and here you can switch language from English to Dutch.

Next to switching languages, you also find the "Settings" page in the User Profile. The "Settings" page allows you to manage your own personal details like name, department, job title, contact details.