Filling in patient data
Create new patient file
To create a new patient file, select 'Add patient' on the left slide in the screen. See the next figure below.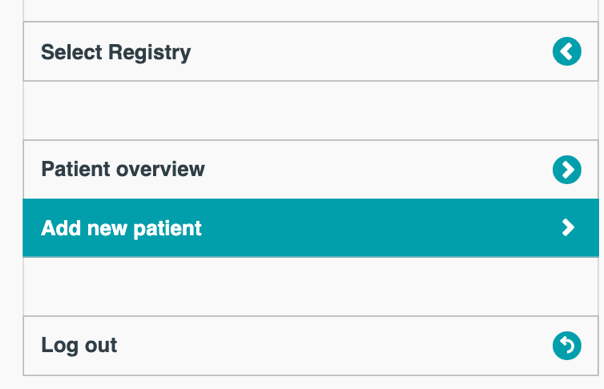 Subsequently, you will enter a screen where the patient data are asked. Using the button 'Next section' you will be directed to the next screen (section) where it's possible to add further patient data.

Opening a patient record
When patients have already been registered, you can open these records by clicking on the patient ID in question.

In this overview all patients can be found that were registered during the entire period of registering. The list can therefore be quite long and it could be challenging to find the right patient with a glance. Using the search bar on the top right helps you to find the right patient. See the next figure.
The most common, most reliable search term is the social security number of the patient within the organization. You enter the number on the top right and press enter subsequently. As can be seen in the figure below, the search results are shown in a separate field.
It's also possible to find patients in the registry in this way. In case you do not know the hospital number of your hospital, please ask for this number internally. If necessary, the service desk can also provide you with the so-called CIC/hospital number.